Unravel what options are available in the market when it comes to the different types of upholstery fabric, which happens to be the most important factor to consider if you want a stylish and comfortable upholstered furniture.
Upholstered furniture is known for the comfort, style, and luxury that it offers. The demand for upholstered furniture has grown by several folds in the present age as priorities and preferences of people have changed. Today, people don't just want their furniture to be stylish, but they also want it to be comfortable.
Upholstered furniture is padded furniture that is always enclosed in fabric. It has a steel or wooden frame over which springs and cushioning are attached. The padding or the cushioning is then covered with fabric to cover it up completely.
Upholstered furniture is not limited to sofas, as one may assume from the basic definition of it. You can find upholstered living room chairs, single, double-seater, or triple-seater sofas, dining chairs, couches, etc. No matter which area of your house you are furnishing, you can find suitable upholstered furniture for it.
Upholstered furniture is found in many designs, styles, and unique color and pattern combinations. The many design options make this type of furniture a preference for most people.
The upholstery fabric is the most important factor in deciding the look and comfort of upholstered furniture, as it is the fabric that covers the springs and cushioning over the frame of the furniture.
Numerous options for upholstery fabric are available in the market for you to choose from. If you are new to the world of upholstery, have a look at the types of upholstery fabric and decide which type will best suit your home's needs.
See alsoTop 10 Large Ottomans for Your Living Room
Related: Types of Upholstered Chairs | Types of Furniture Styles | Types of Accent Chairs | Types of Slipcovers | Why Chesterfield Sofas are Ugly | Top Sofa Brands
You will see different types of upholstery fabric when you go to buy upholstered furniture or if you are planning on reupholstering your furniture. Every upholstery fabric type has its own charm and a unique impact. Having sufficient knowledge about different upholstery fabric can help you reach a decision easily.
1. Leather
The most common and the most widely used upholstery fabric is leather. Leather upholstery is not only comfortable, but also looks luxurious, feels grand, and smells expensive. Leather upholstered furniture looks amazing in living rooms.
Pros
All in all, leather is a fabric that is well-suited to heavy use, while maintaining its style and elegance.
See alsoCherry vs. Walnut Wood (For Furniture, Flooring, and Cabinets)
Cons
2. Polyester
Polyester is a microfiber that is commonly used as an upholstery fabric. It is available in many colors, and therefore, you can find polyester upholstered furniture that blends in with whatever theme your interior follows. Polyester upholstery looks attractive, and it gives an 'expensive feel' similar to that of leather upholstered furniture.
Pros
Cons
3. Olefin
Olefin is a petroleum-based synthetic fiber. It is extremely durable and is perfectly suited for places where the furniture is used quite roughly and receives a great deal of wear. Resembling the look and feel of wool, olefin is one of the most long-lasting types of upholstery fabric.
Pros
See also13 Clever Nightstand Alternatives (for the Bedroom)
Cons
4. Rayon
Rayon is semi-synthetic fiber. It is versatile and offers comfort that is similar to the comfort levels provided by true natural fibers. Although rayon is not a very durable upholstery fabric, the newer varieties of this fabric are widely used in upholstered furniture.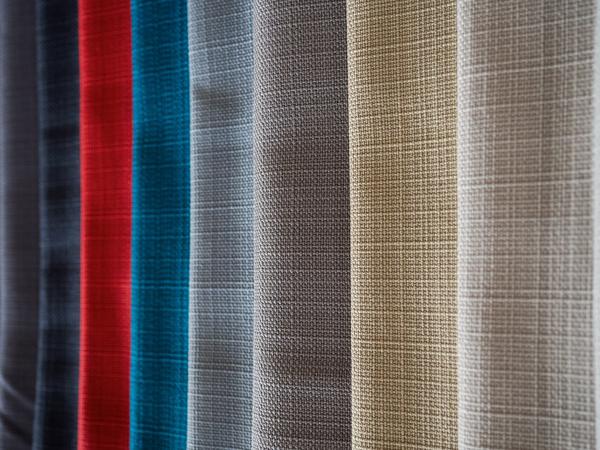 Pros
Cons
5. Wool
Wool is a natural fabric that can be used as an upholstery fabric. It is available in a massive variety. It is soft and warm, and these qualities make it a comfortable upholstery material. Wool upholstery is a great option for a couch you plan on placing in your living room. Although wool is not commonly used for upholstery purposes, it does come with a number of benefits.
Pros
See also20 Top Types of Wooden Oval Coffee Tables
Cons
6. Acetate
Acetate is popular upholstery fabric. It is a synthetic fabric which was initially made to imitate silk in its shine and luster. It gives the furniture a luxurious feel. Acetate upholstered furniture adds class and elegance to a formal sitting area. Although it makes for a piece of beautiful upholstery fabric, acetate is not as strong as other synthetic fibers.
Pros
Cons
7. Cotton
Cotton is the most commonly used and the most popular upholstery fabric. It is a natural fiber that makes the most durable upholstery. Cotton can be dyed very easily, and that is why you will find cotton upholstery fabric in any color imaginable. Most importantly, cotton is available in different grades, which means that no matter what your budget is, you will find a cotton grade that falls in your budget. Cotton is a popular upholstery fabric for all the right reasons.
Pros
Cons
See also6 Types of Small Sectional Sofas for Small Spaces
8. Silk
Silk is one of the most luxurious and most expensive natural fibers. Silk is a worthy investment for areas that have a formal décor. If taken care of, silk can be a quite long-lasting investment. Known for unmatched shine and softness, silk tops the chart of luxurious fabric.
Pros
Cons
9. Acrylic
Acrylic is a synthetic fiber that is often used as an upholstery fabric. It is also used in different blends. Acrylic imitates wool. It is available in a number of vivid colors that make acrylic upholstered furniture a perfect addition to informal sitting areas.
Pros
Cons
10. Linen
Linen is a natural fiber that has its origin from the flax plant. It is one of the most popular and affordable upholstery fabric that are in use today. It is often mixed with synthetic fibers to improve its characteristics.
See alsoShould Sofas Match the Wall and/or Floor Color? Does it Matter?
Pros
Cons
11. Velvet
Velvet is one of the most beautiful, the most elegant, and the most attractive fabric. Velvet upholstered furniture looks breathtakingly beautiful. It can transform the interior of any space almost instantly.
Pros
Cons
See also20 Rectangle Wood Dining Tables That Seat 6 For Under $500
12. Jute
Jute is native to Bangladesh and India. It was originally used to make mats and ropes. However, jute is also used as an upholstery fabric. Even though it can be used as an upholstery fabric, jute is not a very commonly used one.
Pros
Cons
13. Chenille
Chenille is a French word for caterpillar. It is a super-soft, naturally obtained fabric. Chenille is a very stretchable fabric which means that backing is necessary. Chenille is most commonly used as an upholstery fabric for children's furniture or comfort furniture pieces since it is considered a casual fabric.
Pros
Cons
With so many types of upholstery fabric, finding one that suits your needs might prove to be difficult. However, you should consider certain things before selecting an upholstery fabric. These factors include the type of use of the furniture (formal or informal), whether you have pets at home or not, how easy it is to clean the selected fabric, its stain resistance, and above all, how expensive it is. The right choice of upholstery fabric is as important as the right design if you wish your furniture to bring the level of your decor up!
See also26 Computer Desk Options (Buying Guide)