There are numerous merits and advantages to having carpet as a flooring material. However, the daily traffic and spills can leave your carpet stained and look shabby. We put together a list of several homemade carpet cleaner recipes that you can make yourself that are much cheaper than commercial cleaners and safer for your family.
When it comes to cleaning your home's carpet, you can find many commercial carpet cleaners on the market that do a great job. However, these products also leave a harsh chemical residue that can be dangerous to your family, as well as damaging the environment.
Here are several excellent homemade carpet cleaners that you can make using simple ingredients that you can find in your kitchen. Each of these recipes will help your carpets look better and last longer.
tb1234tb1234Table Of Contents
How to Make a DIY Carpet Cleaning Solution
If you're sick of spending your hard-earned money on commercial carpet cleaners, or are looking to find more environmentally friendly ways to clean your carpets, we put together several excellent DIY carpet cleaning solution recipes that you can make from the comfort of your home with everyday chemical-free ingredients.
Homemade Carpet Cleaning Spray
If your home is full of kids and pets, your carpet probably takes a beating on a regular basis.
However, if you hate using commercial carpet cleaners because of the harsh chemicals they contain and the horrendous smell they leave behind, here is a homemade carpet cleaning solution that you can use that will leave your carpets smelling fresh and free of dirt and stains.
tb1234
DIY Carpet Cleaning Spray Recipe
tb1234
Mix the vinegar and water in a glass spray bottle. Add the lavender oil and the salt to the spray bottle. Put the cap back on and thoroughly shake.
Spray the solution liberally on the carpet or use it for cleaning an area rug without a carpet cleaner. Make sure to shake the bottle frequently to ensure the ingredients remain mixed.
Allow the carpets or rugs to dry thoroughly to ensure the mixture has time to work. Vacuum your carpet to remove the dried residue. You can repeat the application as needed.
If your cat has left a puddle on the carpet, after blotting, you can also try to eliminate the stain and smell with this recipe. Sometimes, however, you need a stronger solution. Make up a homemade enzyme cleaner for cat urine for the most effective stain removal.
Homemade Carpet Cleaner for Machines
If you are looking to clean your carpets with a steam cleaner, you don't have to resort to using the commercial carpet cleaners you can find at your local grocery store. Here is a natural carpet cleaner for machine recipe that you can make at home to add to your carpet cleaning machine.
tb1234
Homemade Carpet Cleaner Recipe for Machines
tb1234
The perfect thing about this method is that it uses inexpensive ingredients and won't leave harsh chemical residue on your floors. In a bucket, mix all the ingredients and pour them into your steam cleaner. Follow the directions for use that came with the machine and enjoy clean carpet without the toxins.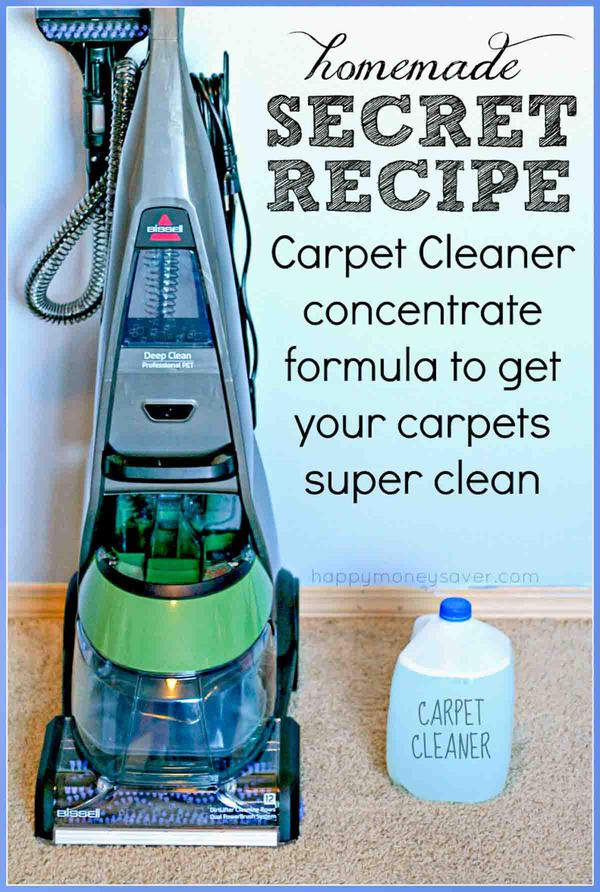 Homemade Carpet Cleaning Solution
This homemade carpet cleaning recipe works great in commercial steam cleaners too. The ingredients used in the method are inexpensive and easy to find. The vinegar helps to dissolve stains and neutralizes odors.
tb1234
DIY Carpet Cleaning Solution
tb1234
Mix the ingredients in a large bucket. Add the homemade carpet cleaning solution to the carpet cleaning machine and follow the machine's manufacturer's instructions for cleaning your carpet.
Homemade Carpet Spot Cleaner
If you only need to spot clean your carpet, here is a great homemade carpet spot cleaner that is easy to make and does a fantastic job pulling up and remove carpet stains. If you have children or pets, this is one you'll want to keep handy.
tb1234
DIY Carpet Spot Cleaner Recipe
tb1234
Mix the ingredients to create a thick paste, and using your fingers, rub it into the stain on your carpet. Leave the paste on the stain for several hours before vacuuming up the residue. To get everything up, be sure to run the vacuum over the spot several times.
Homemade Spot Remover
You can make this excellent spot remover easily at home with the two basic household ingredients white vinegar and baking soda. For the best results, try treating the stain before it has time to set. If you have a tricky stain, you'll need to use this solution several times to get the best result.
tb1234
Spot Remover Recipe
tb1234
Mix the baking soda and white vinegar to form a paste. With an old toothbrush apply the paste to the spot. Leave the paste on the stain for several hours, allowing it to completely dry. Once the paste has dried, vacuum the baking soda up.
One of the best ways to remove dirt from your carpet and ensure that it is clean is to sprinkle a layer of baking soda over your carpet and then vacuum it up. Not only does this method remove dirt from deep down in your carpet, but it also neutralizes odors.
This recipe also does a great job in your car. If you discover old stains or make a new one, this solution is the best idea for how to clean car carpet to leave it clean once again.
Best Homemade Carpet Shampoos
We put together a comprehensive list of recipes for homemade carpet shampoos. These shampoos work similar to regular cleaning solutions, but allow the cleaner solution to soak into the carpet much longer.
>> More here:7 DIY Homemade Carpet Shampoo Recipes
Commercial Carpet Cleaner Solutions
If you don't want to make your own DIY cleaner, here the best carpet cleaning solution that you can buy online.
The Bissell 78H6B Deep Cleaning Pro Deep Cleaning formula has been proven unbeatable versus the other leading products. It contains twice the cleaning agents as different formulas, helping make your carpet look good and stay cleaner longer.
This carpet cleaner from Carpet Miracle not only will clean and deodorize your carpets, but you can use it to clean your upholstery as well. It can be used in all carpet cleaning machines and is biodegradable and non-toxic, making it extremely safe and effective.
If you need something that is effective in removing pet stains and odors, try Bubba's super strength commercial enzyme cleaner – pet odor eliminator. This product has been scientifically formulated to be more powerful than other products on the market. It uses green natural organic products that permanently eliminate stains and odors, making it safe for kids and pets.
The best natural carpet and upholstery shampoo on the market is made by Puracy. This natural detergent deodorizes and removes stains and soil from even the dirtiest of carpets. The plant and mineral-based ingredients make it safe for your family and the environment.
How to Best Clean Your Carpet Manually
The carpet in your home should be thoroughly cleaned on a regular basis to help it continue to look great and for it to last longer. Along with vacuuming your carpet on a weekly basis, it needs to be deep cleaned several times a year to remove ground in dirt and stains.
To thoroughly clean carpet by hand, vacuum your carpeting. Vacuuming helps to remove the loose dirt that is resting on the top of the carpet fibers. You want to vacuum both vertically and horizontally, ensuring that the vacuum has reached every part of the fiber.
To clean recent spills and stainsuse one of the homemade spot cleaning recipes shared above to treat the stain immediately. Apply a small amount of the solution to the spot, then gently blot the stain. Make sure you treat difficult stains like cleaning blood stains on carpetor pet urine stains separately and with great care.
You only want to use enough of the product to treat the stain. Rinse the carpet using a fresh, clean white towel to soak up any residual solution, by blotting the area you just treated.
When you are ready to shampoo your carpet, make sure your furniture is protected. If you are not able to remove the furniture from the room, you can place professional plastic under the legs of your furniture to protect them from being damaged by the water.
Using a carpet shampooer, slowly clean the carpet in a horizontal motion. Be sure to allow the extractor to pull up as much water as it can before moving to the next area.
Allow the carpet to completely dry by leaving windows and doors open for free air circulation. If you are cannot leave the windows open, you can set the air conditioner to a moderate setting then leave the room.
Having clean carpeting that is free of odors without breaking the bank is possible. The recipes featured in this article are inexpensive and easy to make and won't leave your house smelling like chemicals. Using natural ingredients to clean your carpets is also great for the environment.
Recipe for Homemade Carpet Cleaner
Homemade Carpet Cleaner
A DIY rug cleaner with a pleasant scent and no harsh chemicals.
Ingredients
Instructions
Notes
Shake the solution often to ensure the ingredients remain mixed.
© Joan Clark
We hope you found the information about DIY carpet cleaning helpful and know that you will love to share these homemade carpet cleaning solutions with everyone you know on Pinterest and Facebook.