We all love being couch potatoes but it's no fun to lounge on a dirty sofa. Over time, crumbs, spilled soda, pet hair, dirt and oil from your hands and feet build up on your couch and make it look dingy. No worries. Here's how to clean a couch so that it's ready for you to binge-watch an entire season of your favorite TV show.
Sectional Couch Delineates Open Living Space
Bianca typically starts with one beloved piece of furniture and designs the rest of a room around it. This West Elm sectional couch delineates the open living room from the dining area. The rug was sourced from RugsUSA.com, which she loves for its affordability—with two cats and two huskies, it's safer to save the splurges for less vulnerable décor.
Photo by: Nathan Fowler, Mileshko Photography
Nathan Fowler, Mileshko Photography
1. Vacuum the Couch
Use a hand vacuum or the brush attachment on your vacuum to clean debris and dirt from the sofa surface. Be sure to clean the crevices where pet hair, food crumbs and dirt accumulate. If the cushions are not attached, remove them and vacuum both sides.
2. Clean the Wood or Metal Areas
Wipe down the sofa feet and other non-fabric parts of the sofa with a solution of warm water and liquid dish soap.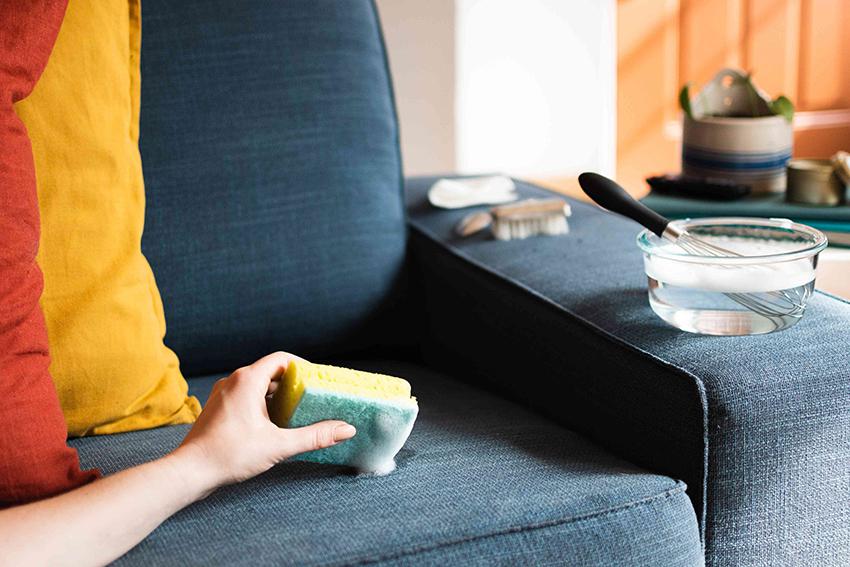 3. Determine the Type of Fabric
Find the tag on the couch and read the instructions for how to clean upholstery. Here are the codes found on labels:
WS: Use a mild detergent with a steam vacuum or a dry-cleaning detergent.
S: Use a dry cleaner detergent only.
X: Use a vacuum only. No water.
W: You can use water to clean it.
4. Remove Stains
Knowing how to clean a couch means knowing how to remove stains. You can use a commercial cleaner or you can make your own cleaners from natural ingredients you have in the kitchen. Homemade cleaners are cheaper and kinder to the earth.
Here's how to clean a sofa, by fabric type:
5. Let the Couch Dry
Use a towel to soak up any excess water remaining on the sofa surface. Let the sofa air dry. If it's humid, you may want to set up a box fan pointed at the sofa for speed drying. Water can cause cushions and fabric to mildew.
More Cleaning AdviceMore Cleaning Advice
How to Clean and Protect Leather
Use these tips and DIY cleaning solutions to keep your leather furniture and clothing in top shape.
More Couch Cleaning Tips
Lint Roller
If your couch is made from a fabric the easily attracts lint, hair or dust, you should keep a lint roller on hand that you can exclusively use for your couch. This works best for a couch that only requires a light amount of de-linting, but it can work for larger jobs, too. In a pinch, you can use large pieces of packing tape to de-puppify the couch.
Leather Soap and Conditioner
If you have a leather couch, leather soap and conditioner is something you can use to keep it looking clean and fresh. You also can use a slightly damp, clean rag to wipe off my leather furniture about once a week.
Steam
If your couch is made of a fabric that can be cleaned with a water-based cleaner, try using steam to loosen up dirt and stains. Try this: Grab your iron, put it on the "steam" setting, and wave it back and forth across any trouble spots on your couch.
Here's What You'll Need
Pet Hair + Lint Remover Brush
$18.95 Amazon
Chemical Guys Leather Cleaner + Conditioner Kit
$19.99 Amazon
Portable Garment Steamer
$24.99 Amazon Get more HGTV
How to Clean a Sofa01:13
Learn how to clean microfiber upholstery the right way with this easy DIY.