Learn how to remove paint from wood with this easy tip. I've also shared my favorite paint stripping product with a desk makeover.
I know I just published a post showing you how I used two household items to refinish wood,but even after I removed the scratches I still wasn't happy with the antique desk.I tossed around the idea of completely stripping the wood with Citristrip, but it made me tired just thinking about it. I know, that might sound silly, because I love to refinish and paint furniture. Just when I was about to give up on the idea of refinishing the desk, I got a tip from a friend on Instagram on how to strip the paint and sealer off of furniturewith minimal sanding. Let me tell you friends, this is a game changer.
I've been stripping paint from furniture for years, and to be honest, it's not my favorite thing to do. It's labor intensive and time consuming and takes forever to strip all the layers off of an antique piece of furniture.
Like I said earlier I was about to give up on my plans to refinish this desk due to, well, my desire for a quick fix. Let me show you what it looked like.
It's a solid wood antique table with a cherry finish. I love the style of the desk, but I don't like the red finish.
My choices to refinish the desk were simple; paint it (probably with chalk paint), apply stain over the old stain, strip it, or leave it as is.
Related Post: How to get paint off wood with Citristrip, Vinegar, heat gun and Easy Off oven cleaner. This is a good post if you are looking for another effective way to strip furniture and Citristrip isn't an option. Also note that not all products work on all surfaces. Here are some lessons learned about using Oven Cleaner as stripper.
Lately I've been finding it hard to paint over solid wood. I love the look of solid wood and I hate to hide solid wood with a paint color that I might not like in the future. I just didn't want to hassle with stripping furniture.I made up my mind that I would keep the desk as it is.
Just when I almost gave up my idea of removing the layers of stain and sealer, I got a great tip from a friend on the best way to strip furniture.
Table of Contents
The easiest way to remove paint from wood furniture
Y'all ready for this? She said to apply Citristrip paint stripper on the desk and then wrap it with saran wrap and leave it overnight.
Saran Wrap? Whoa, this was a new one.
I've been stripping polyurethane, paint and stain off of furniture for years…
Why had I not heard of this? Either way, I had to give it a try.
Disclosure; this post contains affiliate links. As an Amazon Associate I earn from qualifying purchases. This does not affect the price you pay. This disclosure statement refers to the rest of the Amazon links in this post. See more on my disclosure page.
Best furniture wood stripper I've found that makes minimal fumes with LOW VOC's
My favorite paint stripper is Citristrip. Most paint strippers have harsh chemicals and create super strong fumes. Citristrip does not.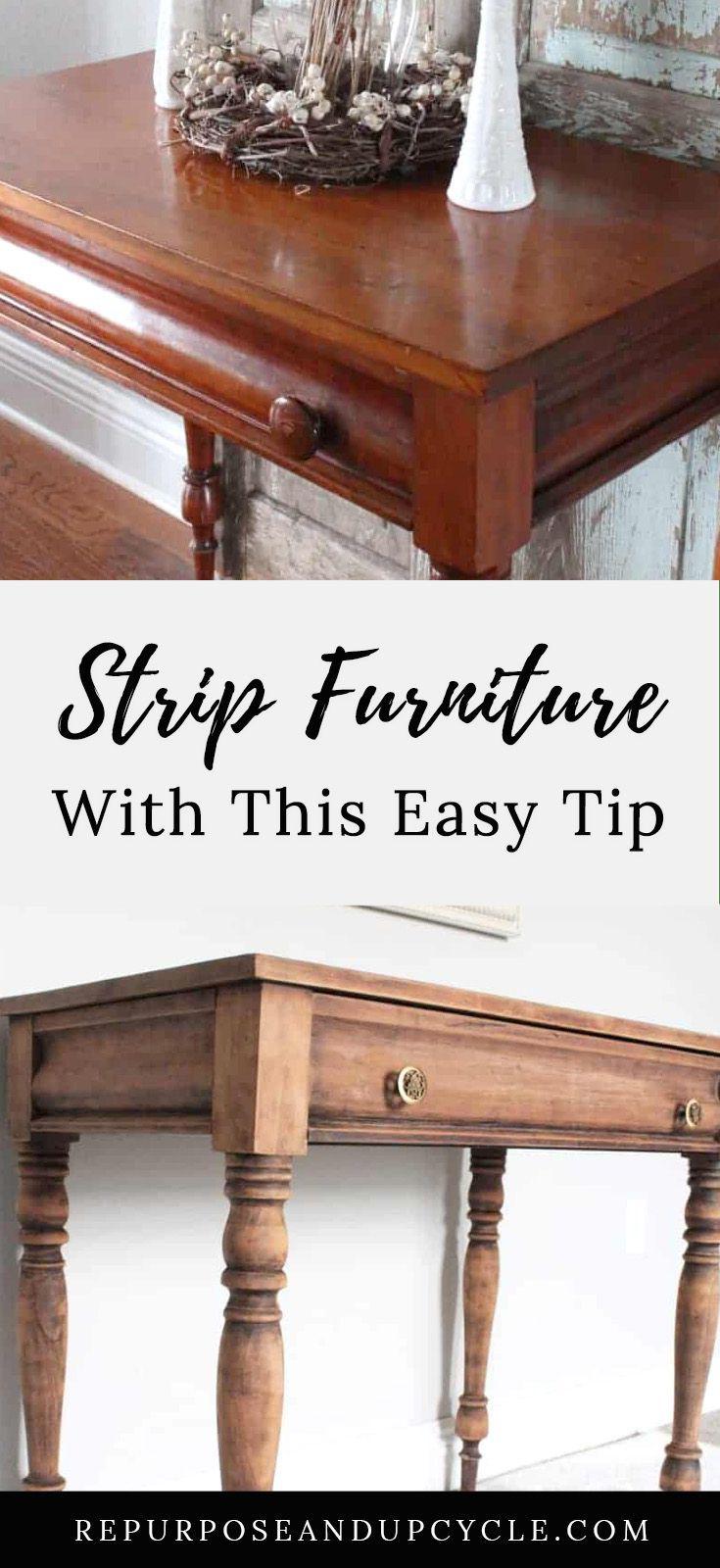 It comes in a gel form and a spray on (spray can). I've used both and they both work well. I would use the spray can for smaller jobs and the gel form for larger ones.
You can see more of the three best paint strippers on the market here. In this post I've detailed the pros and cons of these three.
Materials to strip the paint and sealer off of furniture:
How to strip paint off wood and stain off wood

Here are some images from the progress:
I sprayed it down with Citristrip and covered it with saran wrap.
After I finished stripping most of polyurethane and stain off the wood, I applied the after wash.You can use "after wash" or mineral spirits. I think they both do practically the same thing.
I used the electric sander for the top of the wood and some of the flat areas.
For the legs and the drawers, this is where the liquid sander came in handy. I used a little bit on the legs of the table below to help with the hard to sand places.
Letting the paint stripper sit overnight with the saran wrap made it easy to remove the extra stain without much effort.
After most of the sanding, this is a little before and after of what the desk looked like.
I picked up some new hardware from Ace's Hardware. I wanted to keep with the "vintage antique" vibe.
I was happy with the transformation so far, but the red tones on the drawer and the top still bothered me.
I tried using a dark wax, a "weathered" stain, and a clear furniture wax with no luck! All these products still brought out the red tones.
After doing a little research, I decided to try to bleach the wood. This is new, I had never done this before, but I'm so glad I did.
How to bleach wood:
FYI: I used regular household bleach because I didn't have anything else.This isn't the best option, but it's all I had at the time. I've detailed how to bleach wood in this post on staining wood with household items.
If you are planning to bleach a piece of wood or furniture I would highly suggest buying wood bleach. You can see a great product HERE.
Above is the drawer before I used the bleach.
I dabbed a little bleach on a heavy paper towel and wiped it all over the wood on the desk. I let it dry and then repeated this process about 5 times.
You can see where the bleach has already dried on the wood, and where it is still wet.
After bleaching the areas of the wood that still had "red tones," I sanded a little more, and then I was almost done!
Lastly, I added a sealer to the top and sides of the desk.
For those of you wanting to know how I sealed the raw wood, check out my post on how to seal furniture for high traffic. I've shared my favorite furniture and wood sealer with a list of other sealers too.
Well there you have it; a total furniture transformation.
I love the raw wood look and I'm so pleased with how well the saran wrap trick helped me strip the paint off of this old desk.
Thanks for stopping by and I hope you've been inspired to strip a piece of furniture the easy way!
How to Strip furniture with this Easy Tip
Learn how to strip the paint and sealer off of wood furniture with this easy tip that reduces the time it takes. This little furniture stripping tip is a game changer.
Prep Time
30 minutes
Active Time
3 hours
Total Time
3 hours 30 minutes
Difficulty
Medium
Estimated Cost
30 dollars
Materials
Tools
Instructions
© Lindsey Manning
Project Type:
Furniture/
Category:
Painting and Refinishing Furniture 101
If you enjoyed this post I would love for you to pin the image below!
Lindsey**