When it comes to investment pieces for your home, few get as personal as your bed. Finding a bed that suits your style and needs is important, given it's where you start and end your days.
If you are looking for a new place to catch some z's, you might be considering an upholstered bed. And while some people love how they provide major comfort and style, others find them to be high-maintenance and difficult to keep clean and dust-free.
So, is an upholstered bed right for you? Read on to learn more about this luxurious piece and why it may or may not be right for you.
Upholstered Bed Pros and Cons
Does it fit into your sleep routine?
Do you watch TV or read in bed at night? If so, upholstered beds with a tall headboard are perfectly designed to provide you with a cushioned support and cultivate a cozy feeling in your bedroom.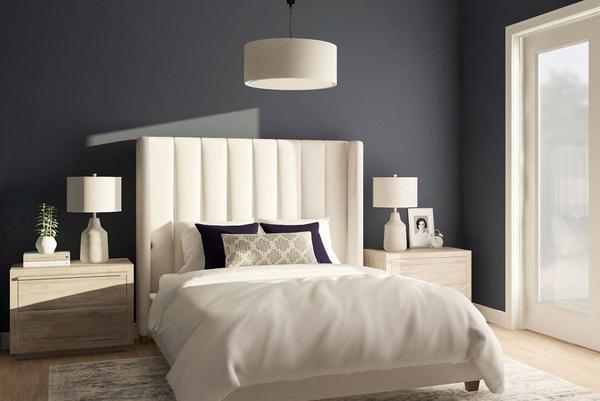 Conversely, if your bedroom tends to get warm and humid in the evenings, a frame covered in absorbent fabric may not be the best option. Your bed is meant to add comfort to your daily life, so make sure it suits your sleep routine and lifestyle.
Are you up for the upkeep?
Because an upholstered bed is covered in fabric, dents and impressions can develop overtime with use. It's recommended that you clean an upholstered bed with a handheld vacuum once a week to keep dust at bay.
If you're one to read in bed and lean against your headboard daily, you may also have to deal with potential grease spots. One solution is to spot clean on a regular basis, but if that sounds like too much maintenance for you, consider opting for a wood or metal bed frame instead.
Do you have cats or dogs or both?
An upholstered bed may not be the best option for you pet owners out there. Hair from your furry friends will likely get stuck on the fabric, which may also tear from clawing. If you're a proud pet owner set on an upholstered bed, pick a microfiber option as it's easiest to clean.
Are you allergic to dust?
You may want to consider the upholstered bed more carefully. While the standard fabric options are usually more cost-effective, if left unattended they are susceptible to dust mites, which can irritate adults and children with allergies. Keep this in mind especially if you're considering an upholstered bed for a child's room.
If you're set on one, consider other materials such as leather, a tightly woven textile, or a "performance" fabric option. These will help keep dust from penetrating into the frame, while also giving you the look you want.
Do you have a small space?
While upholstered beds come in a range of sizes, their thick padding tends to take up more square footage than a slender wood or metal frame. For a small bedroom, an upholstered bed could result in a tight space with narrow walkways. If you must, choose one in white or soft gray to minimize the visual impact.
Are you looking for some color?
Upholstered beds come in hues that are highly versatile, such as gray, cream, or blue. These colors pair beautifully with a wide range of accents, metals, and finishes. These palettes are also ideal if you're going for a calming bedroom atmosphere that's not void of color.
Of course, upholstered beds are offered in more vibrant fabric colors as well if you're one for a bold look. Either way, these can ultimately function like a piece of art that can help add color to your walls as well as soften the linear angles of your space.
Do you want to make a statement?
Without a doubt, an upholstered bed is guaranteed to be the most captivating centerpiece in any bedroom. From platform styles, to swooping sleigh beds, to winged headboards, an upholstered bed in any bed frame style is guaranteed to make your room feel tailored and sophisticated.
Curious what an upholstered bed looks like in your space?
Try It In Your 3D Bedroom
Start Your Project